Open! The Goin' Home Cafe, Lower 9th Ward, New Orleans - Our new site is finally open, right in the heart of the Lower 9th Ward. In a way, this area was the epicentre of the Katrina disaster, but it is also an area of a tight-knit, determined, and strong community with a will to return. We are helping them on that quest with free meals, laundry services, gutting, internet, children's programs, and anything else that is asked of us. Come and volunteer!
Open! The Y Café, Buras, Plaquemines Parish, LA, May, 2006-?. The United Way and the government of Plaquemines Parish, Louisiana invited us to open a new free kitchen and community center in Buras, the town where Hurricane Katrina first made landfall. Our relief operation served its first meal on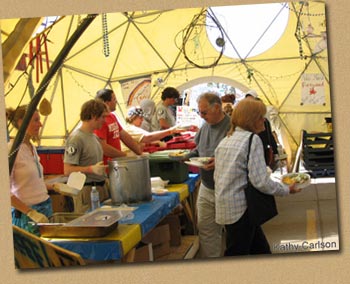 June1st and is now serving three hot meals to over 200 residents daily. We are operating a free Laundromat and internet café to accompany our kids' space, showers and air-conditioned community spaces for the local residents. Come volunteer!


Closed. Camp Hope, Violet, St Bernard Parish, LA, May-August, 2006. After closing the Made With Love Cafe, we opened operations at Camp Hope where we served thousands of volunteers who came to St. Bernard Parish to gut homes, as well as the residents we served at the Made with Love Café & Grill. We fed volunteers from Habitat for Humanity, Americorps and others who were working to continue the recovery of the Parish. We also provided a distribution center, a resident lounge, and lots of free live music at the site.


Closed. Made With Love Cafe & Grill, Arabi, LA, December, 2005-May, 2006. Emergency Communities arrived in St. Bernard Parish on November 28, 2005 and built the Made with Love Café and Grill in the parking lot of an off-track betting parlor. St. Bernard Parish was home to more than 65,000 residents before Hurricanes Katrina and Rita—as of March only about 10,000 had returned. The entire Parish was flooded with five to twelve feet of standing water for over two weeks after the overwhelmed levees succumbed to a twenty-five foot storm surge.

In the six months we were open, we served over 200,000 meals to returning residents and volunteers from around the area. We offered nutritious meals, using fresh ingredients—creating a friendly and hospitable atmosphere, because comfort and respect are as much a part of recovery as a hot meal. Residents also had access to grocery distribution, alternative medicine and first aid, a bike co-op, free internet and long distance telephone access, and dance lessons. A group of residents even held weekly meetings in our dome to plan a permanent community center, eventually forming their own non-profit. (link to Iray's website, http://groups.msn.com/ccstbp/)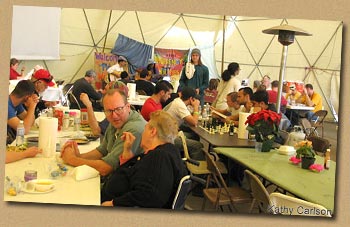 The Count and Countess of the serving line at Made With Love Cafe
« return to page top
©2006 Emergency Communities
Design - www.wardmulroy.com - Ward Mulroy, Jason Joslyn