Mission
Emergency Communities' mission is to rehabilitate disaster-stricken areas through the creation of temporary community centers based on service, compassion, and creativity.
Vision
Emergency Communities' vision is to create a network of continually evolving sites that cater to the needs of America's most devastated communities.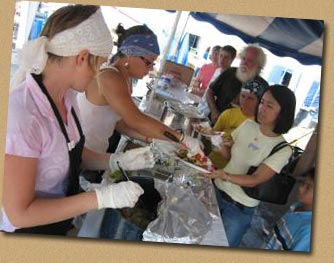 At each Emergency Communities location, volunteers offer an array of personalized services, including three hot meals a day, creating oases of peace and comfort amidst landscapes of total devastation. Our spaces are non-political, non-religious, and open to all. We highlight regional dishes in our menus and always cook with fresh, locally bought ingredients. We also encourage residents to cook in our kitchens, help out with distribution, and take an active role in their recovery.

Emergency Communities is a young, dynamic service organization. Our most important contributions come from our volunteers, who work tirelessly and cheerfully on our sites. Many have stayed for months on end, adopting the disaster areas as their home and the relief community as their family. The vibrancy and beauty we create together every day allow us to project a happy and welcoming atmosphere in the spaces we maintain.
Since the storm Emergency Communities has served roughly 250,000 meals and distributed over 300 tons of donated goods. EC has also acted as a distributor of Sanderson Farms chicken and Organic Valley dairy products, supplying over a dozen other relief kitchens operating along the gulf coast, and enabling thousands more volunteers and residents to continue their work.
Our history
In the days following Hurricane Katrina, volunteers poured into the gulf coast, alone and in groups, without ties to any large organization. Teams of people, sometimes with nothing but a pick-up truck and a few tools, went from house to house to help the elderly pull their pets and possessions from the rubble. Relief kitchens sprung up in some of the most devastated areas. Each day found more people staying to work from empathy alone. They slept in tents, ate what they could, and slowly energized broken towns and desperate people.
Emergency Communities was born of these efforts. We met in abandoned parking lots and campgrounds across the Gulf, from Biloxi, Gulfport and Waveland, Mississippi to New Orleans and Slidell, Louisiana. We shared our experiences and resources, coordinated the shipment of donated goods and built relief kitchens and community centers. The disaster area became our home, and providing relief became our single, unifying goal.
Emergency Communities maintains an office in New Orleans:

Emergency Communities
4316 Baronne St.
Suite D
New Orleans, LA 70115
Emergency Communities is currently working at the following addess:
Emergency Communities
36342 Highway 11
Buras, LA 70041
Emergency Communities can be reached by phone:
917.442.8900
Email:
[email protected]
©2006 Emergency Communities
Design - www.wardmulroy.com - Ward Mulroy, Jason Joslyn