Current Needs - Updated 10/29/2006
Please contact us at (917) 442-8900 if you are going to donate any of these items so we can check them off the list. You can send in-kind donations via UPS to:
Emergency Communities
4316 Baronne St., Suite D
New Orleans, LA 70115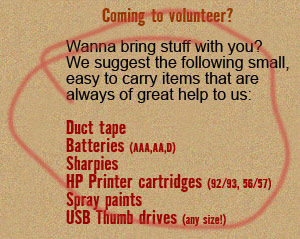 ICE & WATER

Bottled Water & ICE

Miscellaneous Items
Aluminum foil
Camping Gear
Folding Chairs
Multi-fold paper towels
Rope
Water-based paints
Sponges, steel wool, Brillo

First Aid
Aloe Vera gel
Saline solution
Spray paint
Sunblock
Tables - 6 ft, 8 ft
Trash bags - 55 gallon
Triple Antibiotic Ointment
Vitamin C
Vitamins and supplements
Cloth/silk medical tape
Coban/Vetrap bandages
Epipen
Hydrocortisone cream
Rubbing alcohol
Antihistamines and cold medicine

Tools & Hardware
Batteries (AAA, AA, D)
Bicycle pumps
Duct tape
Electrical Subpanels
Lumber
Power tools
Romex cable
Walkie-talkies
Rubber boots
Wheelbarrows
Bungee cords
solar walkway lights
lawn mowers/weedwackers

Office Supplies

HP Printer ink - 92/93, 56/57
Photocopier
Printers: ANY USB w/ Ink
USB Thumb-drives

Operational
Diesel Fuel
Forklift
Propane
15 Passenger van
Prepaid Gas cards
Generator—500 kilowatt, or any size
Pick-up truck
Diesel fuel

Large Food Service Items
Cambros
Cambro Liners
Convection ovens
Deep fryer
Ground burners
Large Smokers
Hot Boxes/Warmers
Hotel trays—all sizes

Food Items
Bread
Cereal
Coffee and tea
Condiments – mustard, ketchup, relish, mayonnaise
Croutons & bread crumbs
Frying oil - peanut, canola, sesame, safflower
Honey
Maple syrup
Nuts – all kinds
Olive oil
Salad dressings
Vinegars—all kinds
Juices, Sports drinks


Spices: basil, cayenne, cinnamon, Creole spices, cumin, curry, oregano, paprika, pepper, rosemary
Teas and herbal teas
Tomato sauce

Frozen Food
Biscuits
Desserts
Meats—bacon, sausage, etc.
Veggie burgers

Refrigerated Food
Butter & other dairy
Cheese
Eggs
Fruits & Vegetables
Tofu

Kitchen Items
Commercial pump containers for condiments
Food-grade buckets
Long-handle lighters
Oven mitts
Paper napkins
Tupperware
Any dishes and silverware

Kids' Space
Books
Toys
Art and Craft supplies
Movies

Distribution Center
Baby Formula & bottles
Cleaning Supplies
Diapers & diaper bags
Feminine hygiene products
Toothpaste & toothbrushes
Toilet Paper and Paper Towels

School supplies: pens, notebooks, folders, see-through backpacks, calculators, etc.