Emergency Communities is a non-profit organization that employs compassion and creativity to provide community-based disaster relief. Since Katrina, we have operated four relief sites, served over 300,000 meals and 25,000 residents of the Gulf. We are a United Way Partner Agency.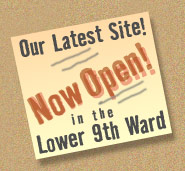 We currently run a community center near New Orleans in Plaquemines Parish, Louisiana, a place still suffering from the destruction of Hurricane Katrina. In fact, it is where Katrina first made landfall, and very little relief work has been done. There, in addition to serving meals, we run a free laundromat, an internet café and a distribution center. We also host live music by New Orleans bands, supply the local "Meals on Wheels" program, and run an afterschool program in a local FEMA trailer park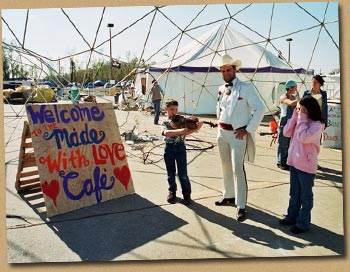 We have recently opened a new relief site in the Lower 9th Ward. We need a lot of help getting our new site off the ground.
The people of southern Louisiana need your help! Come and volunteer on our site, help serve food, muck out moldy houses, and help rebuild! Check out our needs list for in-kind donations, or make a financial contribution. Tell a friend, spread the word, and get involved!

©2006 Emergency Communities
Design - www.wardmulroy.com - Ward Mulroy, Jason Joslyn