Emergency Communities is a new kind of disaster relief organization. We seek to fill gaps in traditional relief models by working to rehabilitate communities, not just individuals. We are a grassroots, on-the-ground relief effort using compassion and creativity to provide for those affected by disasters. Our first major project, the Made with Love Cafe and Grill in St. Bernard Parish, adjacent to the Ninth Ward of New Orleans, has already served over 150,000 meals to thousands of returning residents. We provide nutritional, logistical, and emotional support for residents returning to rebuild their lives. Most importantly, we provide a safe, warm space for the community - a space filled with compassion, love, and hope as we work together to recover and build anew.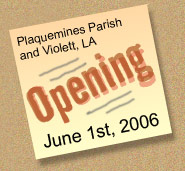 On June 1st, we opened our second major relief operation in Buras, LA, in Plaquemines Parish - the very site where Katrina first made landfall. In the last ninth months, very little relief work has been done. Most residents evacuated and stayed away while their children went to school in the evacuated area. They are coming back now to a devastated landscape. Emergency Communities, with the support of the United Way, is on the ground helping every returning resident. We are providing food, groceries, showers, laundry service, a Kids Space, air conditioned rooms, as well as our large community center.

Our History


Hurricane Katrina struck the United States with such force that it shook our social order to the very core. For days, many of us watched in horror as tens of thousands of people suffered, starved and struggled to survive. Many doubted that New Orleans or other Gulf Coast towns would ever rise again. Katrina also revealed gaps in the coordinated disaster relief capacity of government agencies and major non-profit organizations. In the weeks after Hurricane Katrina, the most important question on everyone's mind was: why are these people not being helped?
In a few debris-strewn towns and neighborhoods, however, something beautiful was happening. Volunteers, medics, builders and dreamers poured into the affected areas, alone and in groups, without ties to any large organization. Teams of people, sometimes with nothing but a pick-up truck and a chainsaw, went from house to house to help the elderly pull their possessions from the rubble. Relief kitchens sprung up across the Gulf Coast. Each day found more people working from empathy alone to help save lives, clear debris, and rebuild. These new, passionate volunteers would not be refused an opportunity to help. Many were frustrated with the slow mobilization that plagued many traditional relief organizations. They slept in tents, ate what they could, and slowly energized broken towns and desperate people. In the first few months after the disaster, such independent relief efforts were often relied upon when action, not bureaucracy, was needed.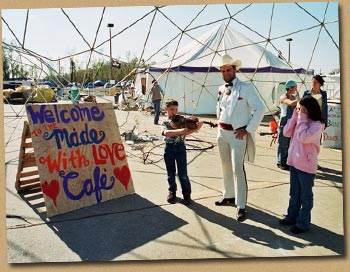 Emergency Communities was born of these efforts. We met in parking lots and campgrounds across the Gulf, from Biloxi, Gulfport and Waveland, Mississippi to New Orleans and Slidell, Louisiana. We shared our experiences and resources, coordinated the shipment of donated goods and built relief kitchens and community centers. The disaster area became our home, and providing relief became our single, unifying goal.
However, the relief effort is far from over. It is incredibly important that people in the United States be made aware of this fact: relief is needed now, more than ever. Residents of highly affected areas like St. Bernard Parish and Plaquemines Parish need a source of wholesome food and a covered public space where neighbors can talk among themselves about rebuilding. Medicine and baby formula are needed. Walls with toxic mold need to be ripped out of houses. Daycare facilities need to be set up and schools rebuilt. Safe, warm shelter must be provided. Most importantly, people need support to know that help is there and that more is coming.
Emergency Communities seeks to use our shared knowledge gathered over the last eight months in the disaster zone to replicate our successful efforts across the Gulf. We hope that our experiences here will help us prepare for future disasters. Together, we can rebuild.
« return to page top
©2006 Emergency Communities
Design - www.wardmulroy.com - Ward Mulroy, Jason Joslyn